Yom Hashoah Commemorations 2021
Location:Hybrid (online and in-person)Venue:Multiple locationsDate:Wednesday 7 April & Sunday 11 AprilTime:Multiple events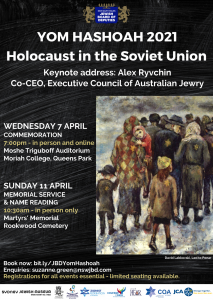 Tickets:
Like many organisations across the country, the coronavirus is challenging how the NSW Jewish Board of Deputies can simultaneously fulfil its community commemoration obligations and respond responsibly to the public health crisis. This year we will gather as a community both in person and online to remember those who were murdered in the Holocaust and honour the survivors.
In 2021 we are commemorating 80 years since the Nazi invasion and murder of Jews in Soviet territory.
Wednesday 7 April – Communal Commemoration
7:00pm, in person and online
Moshe Triguboff Auditorium, Moriah College, Queens Park
Sunday 11 April – Memorial Service & Name Reading
10:30am, in person only
Martyrs' Memorial, Rookwood Cemetery
Enquiries, please email [email protected]
Registration for in-person attendance has now closed.
To join the commemoration line, at 7:00pm Wednesday, 7 April use this link:
https://www.admedialivestream.com.au/pages/yom-hashoah-2021