The Jewish Response to Climate Change (March Plenum)
Location:Hybrid (online and in-person)Venue:Details to be released closer to eventDate:Tuesday, 15 MarchTime:7:30pm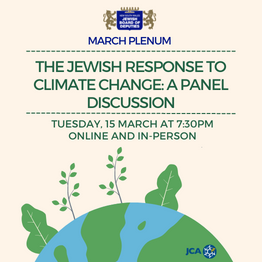 Tickets:
Featuring a panel discussion aiming to uncover the different ways Jews are addressing the issue of climate change, join Professor Danielle Celermajer, Rabbi Danny Eisenberg, Joel Lazar, Ethy Levy and Liam O'Callaghan (moderator) as they share their insights and experiences with the community.
Please register using the form below.
For those registering to attend in person, the location will be provided closer to the event.