2022 Annual General Meeting
Location:In personVenue:Eastern Suburbs LocationDate:Tuesday, 16 August 2022Time:7:30pm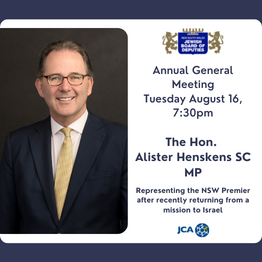 Tickets:
Minister for Skills and Training, Minister for Science, Innovation and Technology, Minister for Enterprise, Investment and Trade, and Minister for Sport The Hon. Alister Henskens SC MP will be the keynote speaker at the NSW Jewish Board of Deputies' Annual General Meeting, to be held in-person at an Eastern Suburbs location on Tuesday, August 16 at 7:30 pm.
Minister Henskens will share insights and his experiences from the recent trade mission to Israel, hosted by Business Western Sydney and the Australia-Israel Chamber of Commerce.
Please register using the form below.